There's nothing quite as thrilling as having friends around for an mid-afternoon tea and cake session; you can dust off your beautiful porcelain crockery, pick out your proudest vintage cups and saucers, dress the table in floral cloth and if you get time, bake some delicious cupcakes to chat over.
However, sometimes what we need is a chance to really let our hair down with the girls, an occasion where tea and cake just will not hit the spot!
Move Over Caffeine – It's Cocktail Time!
Since the 1950s the housewives' "Cocktail Hour" has been a popular pastime for women to gather and 'chinwag' about the happenings of the day; from beauty tips, their husbands, work and just about anything that has popped up in their life.
The Cocktail Hour wasn't a shabby affair; the finest tipple glasses were polished-off and a smorgasbord of dainty treats were laid out for the ladies in attendance. The lady in charge of hosting such an evening would have a lot to live-up to; the newest and most exotic cocktails were expected, and only the yummiest of canapés would be on offer. There's was definitely a touch of "Keeping up with the Joneses" for each lady hosting the Cocktail Hour, her drink selection and spread of appetizers were a reflection of her cosmopolitan tastes and experience, as well as a sign of her social standing and wealth – the pressure was on when it was your turn to have the ladies around for the evening!
Nowadays we're a little less stuffy about our evening events, however, you many fancy taking a few tips from the sophisticated ladies of the past and try hosting your own vintage themed "Cocktail Hour" (or more than likely, an entire evening of Cocktails!)
Classy Canapés and Crudités
A classic of the times was the Vol-Au-Vent, a delicious pastry treat that has sadly fallen out of favour over the past few decades. The small, bite sized puff pastry towers were filled with everything from cheese to prawns in Marie Rose sauce. Next up was the "Deviled Egg" – these were sliced hard boiled eggs with the yolk removed. The yolk would then be mixed up with mayonnaise and mustard, and then placed back in to the centre of the halved egg white, basic but very en vogue for the time! The egg halves would be laid on a bed of lettuce leaves for the ultimate in stylish presentation.
Whilst we're discussing appetizers of gone by times, we must not forget the classic art of wrapping half a melon in tin foil and adorning it with cocktail sticks of cheese, pickles and raw vegetables. This certainly wouldn't look as classy these days at a contemporary dinner party, but it would look highly authentic at your vintage themed Cocktail Hour!
As for the crux of the event – the Cocktail. Almost every concoction would include Gin (who said anything about "Mother's Ruin"?) and the combinations of exotic juices and foreign spirits were most definitely a sign of the times; people were traveling further than ever before, on both holiday and business affairs.
The Beachcomber's Classic
A classic Cocktail of the day was the Mai Tai; this exotic drink was perfect for warm summer evenings, the scent of the citrus fruit bringing to the senses idyllic dreams of far away lands.
Ingredients
40ml White Rum
20ml Dark Rum
15ml Orange Curaçao
15ml Orgeat syrup
10ml Fresh Lime Juice
Shake all liquids except the dark rum in a cocktail shaker with ice. Strain into a Highball glass and then float the dark rum on the top. Garnish with cocktail accessories, cherry on a stick and serve with a straw. If you need help for alcoholics in attendance, try making an alternate alcohol-free version of this cocktail using orange juice and grenadine in place of the rum and Curaçao.
Shaken or Stirred?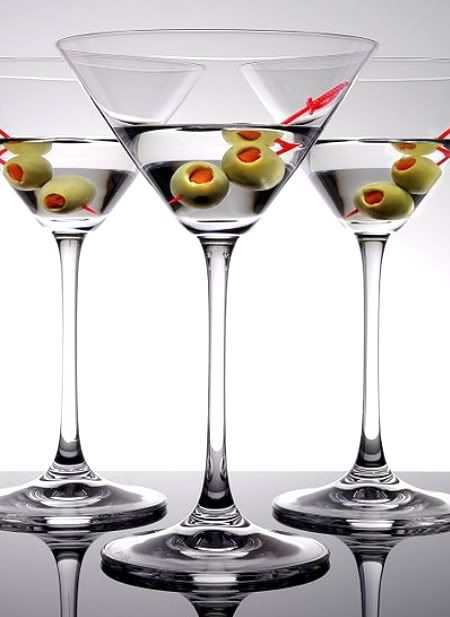 If you fancy something a little less sweet, another popular cocktail of the era was the Vodka Martini – it's an incredibly simple yet sophisticated cocktail, and other than your desire for an olive or lemon twist, the only choice you will need to make is whether or not to take your cocktail "shaken, not stirred"!
Ingredients
55 ml Gin
15 ml Dry Vermouth
Olives on cocktail sticks or lemon slices for garnish
Combine all ingredients into a cocktail shaker with ice cubes and stir thoroughly. Next strain the drink into a chilled (very important!) Martini cocktail glass. Add a twist of lemon or garnish with an olive on a cocktail stick.
Share on Facebook