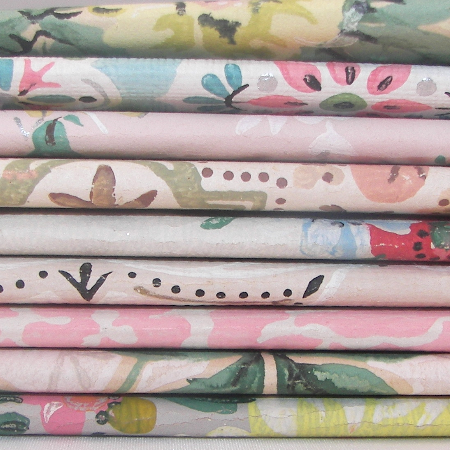 Imagine just having in your hands the type of notebook used by the great, thinkers, artists, poets, among them Vincent van Gogh, Pablo Picasso, Ernest Hemingway, and Bruce Chatwin. A simple black rectangle with rounded corners, an elastic page-holder, and an internal expandable pocket: a nameless object with a spare perfection all its own, produced for over a century by a small French bookbinder that supplied the stationery shops of Paris, where the artistic and literary avant-gardes of the world browsed and bought them. A trusted and handy travel companion, the notebook held invaluable sketches, notes, stories, and ideas that would one day become famous paintings or the pages of beloved books.
The legendary Moleskine notebooks have been lovingly up-cycled with hand painted oh-so-pretty vintage wallpaper!
Only one of each style available!!
I really like the colour mixes of these papers as well the designs which are reminiscent of many contemporary designers and high street designs.
The perfect little vintage notebook for all you ideas led creators!
Share on Facebook