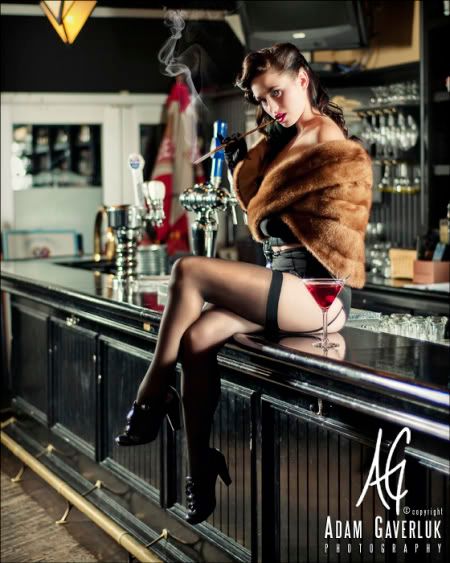 OK, yeah, I know – I admit it! At times, there have been moments where… I can be a complete VINTAGE SNOB!!
HAS to be original HAS to have a certain look… Same goes for films set in the sixties, music that thinks its sixties… d'ya "catch my drift?" (Ahem. Me trying to use sayings from way back when)  What makes vintage, "vintage" to me is that it was there living through that time, those moments, taking in the air, the whole vibe of the time… I do love the current upcycle and re-direction of clothing using materials from vintage periods as it still retains the same sort of flavour…
Back in my university days (I'm reminiscing a lot lately) I did my final year dissertation on The Pin-Up; Imagery and Photography. I loved the hairstyles, the fabrics, the shapes and the mood of the pictures ~ such genuine beauty with a big dollup of saucy fun!
So I guess it's rare that I see something that gives me the same feeling as vintage photography or the magic of that thrift shop find, if it's not the genuine article. Something with the same sense of style from those glamourpuss days…that age and warmth.
But Adam Gaverluk has changed all that! Shooting images of the female form exclusively and as he puts it "as there is nothing more interesting or more beautiful"  Dang right! Check out his site Adam Gaverluk Photography, for Fashion, Portrait, Fine Art, Glamour & Pin Up.
I suppose that's just what photographers, artists, painters are meant to do… make you stop, look and think a while…
…and if that's not all his sister owns the fabulous Weezi.com – a place for new and recycled t-shirt tops,  bags, vintage items and handmade dresses!!
Share on Facebook