Make-Up, Burlesque, Theatre & Carnival,
Costume, Poetry, Performance & Dance
Magic, Live Art, Fashion & Bodies..
… just a few of my favourite words to ponder and imagine, I love seeking out new and expressive images that are just so exciting!
For me "live" art element of any theatrical based performance is the most thrilling time, a captured moment as the drama and decor, wigs, words and wizardry come together for the onlooker to interpret in their own way…
Having noticed recently a lovely blend of Vintage, Pin-Up, Burlesque and Tattoos – a look that I totally love, with the likes of  Bernie Dexter and Sabina Kelley,  the Tattoos are colourful, cute and beautifully designed. I wanted to talk to someone in the know before thinking about getting my own body art…
Cue the intoxicating Vera Voodoo…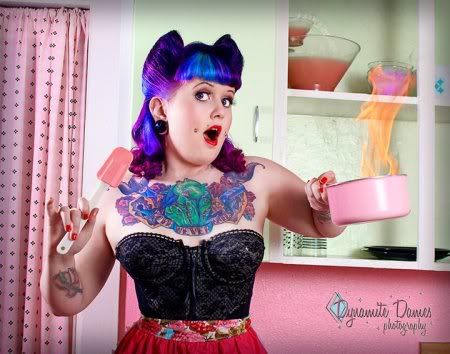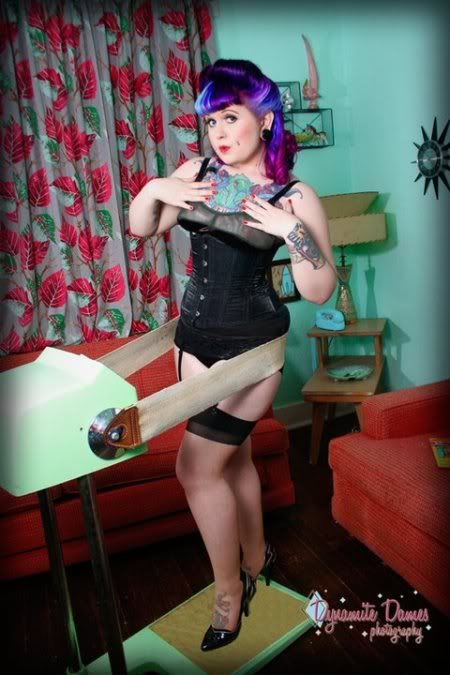 Extinct: What got you first into Tattoos?
Vera Voodoo: Tattoos have been a long time fascination for me. I had seen them in old circus books, magazines and movies growing up, but never really knew anyone that had them. I know for a fact that it was when I was in elementary school and I met a very tattooed girl and that really piqued my interest. I was drawn to a girl volunteering for that because she was absolutely intriguing to me. She had blue hair, and several piercings and tattoos. She was so friendly and awe inspiring, so I was always really open and curious about them from then on.
Extinct: Tell us about your tats!
Vera Voodoo: All of them tie back to important things in my life. My chestpiece is my favorite so far.. It is a green heart, keyhole coffins, roses, knives, and a banner reading "Love Never Fails." I truly believe in it. It is appropriately a symbol of how I can count on the love in my life. God, my husband, my family, friends…Each item in the design means something different, and it is just makes perfect sense to me when it's all together. I have anchors on my feet so I can keep my feet on the ground (although nothing is keeping my head of of the clouds), and my childhood love was Nightmare Before Christmas, hence the start of the sleeve. I have engagement and wedding tattoos on the sides of my ring finger and a bat behind my ear, which will eventually will be a whole piece on the side of my neck.
Extinct: Were you influenced by any particular artist/image/theme etc?
Vera Voodoo: No particular artist, but many of mine are semi traditional in style, and some are horror/Halloween themed. Go figure.
Extinct: Any plans for more?
Vera Voodoo: Absolutely. I would like a lot of coverage..I feel naked with as little as I have! I have so many ideas!
Extinct: Have you noticed a recent trend for tattoos?
Vera Voodoo: I have seen quite a few trends in the last several years I have been involved in tattoos. I don't know about other regions, but I'm seeing a lot of first timers getting rib pieces.
Extinct: Is a tattoo still the mark of the rebel?
Vera Voodoo: Ha, I don't think so. I mean, I still get the negativity from the public, so maybe as far as society as concerned, but not to me. At one point 25% of the U.S population was tattooed, and that was several years ago.. I'm willing to bet it is more now. You don't know how many doctors and lawyers have full sleeves and a lot of coverage…there is no much to rebel against these days, it generally is more about self expression.
Extinct: As an tattoo artist, what would you say is your favourite part of the job?
Vera Voodoo: When I was tattooing it was a combination of meeting all of the people, and creating the perfect design that was meaningful and unique to them. I love making people happy… the challenges of some of the designs was also pretty rewarding.
Extinct: What advice would you give someone who is looking for just that "right" design for them?
Vera Voodoo: Time and thought. Those two together are great ingredients for finding the best design. I also suggest it be meaningful to you. Many people are happy with walking in and picking something off of the wall, but I find that the people most contented with their tattoos are people who took time to think long and hard.
Extinct: Where do you see tattooing in 10 years time?
Vera Voodoo: It has changed so much just in my lifetime alone… I cannot even image where it will be. There is already every style imaginable.. I can't wait to see where it goes…I hope it is more widely accepted, and then people keep being innovative and coming up with new styles, tools and techniques!
Extinct: Do you think it will ever be accepted truly as an art form?
Vera Voodoo: You know, all I can do is hope… I know many people do consider it an art form.. but that is mostly people that get them or at least not adverse to them.. but as for the general population.. it isn't considered as such and I don't think it will be for a long time.. I don't think it will in my lifetime.
How did you start your life as a burlesque star?
Vera Voodoo: I had always admired the burlesque queens on the past, and when my friend was involved in the revival in Oklahoma, and seeing it live and in person I was in love. Years later I was contacted by a burlesque troupe in my city and they suggested that I try out… My friend was leaving the state and I off handedly made a comment that I wish I could do it.. she convinced me to try it, to help the tiny Burlesque scene in Oklahoma stay alive. I met with the troupe and not long after that was performing at my first gig. It has been one of the best decisions of my life.
Extinct: Do your tattoos enhance your burlesque's character?
Vera Voodoo: I think they do to a degree. Vera is a dark and sultry lady most of the times, so I think the tattoos help…especially the Chestpiece.
Extinct: Growing up what fashion styles inspired you the most?
Vera Voodoo: Victorian styles inspired me a lot, also Flappers and the gorgeous women of the 1930′s-1960′s. I was a ridiculous child and tried mixing all of these…. in a very small and unaccepting town in Oklahoma. To this day I can look through my books of the styles past for hours on end, admiring the beauty in it.
Extinct: What is your favourite tattoo you have or have seen on someone else?
Vera Voodoo: Ah, that's always a tough one… I have seen so many.. I recently saw the woman with the Octopus on her whole torso, and her breast was the head, so it was 3D… It was rad.
Extinct: Whats next for Vera Voodoo?
Vera Voodoo: Ah, I wish more than anything to be tattooing again, but as for everything else, I would really love to branch out my burlesque performances into more states, and maybe take the modeling to the next step…I got my chest in a tattoo magazine, but would really like to get a full shot of me in one someday! I recently got into the second issue of the pinup magazine Retro Lovely, so we'll see where that takes me!
Extinct: Anything else you would like to add.
Vera Voodoo: Oh.. If it were ever possible for glittery tattoos, even if I'm 105, count me IN!
Thanks so much Vera!
If you would like to get in touch with Vera for shoots you can contact her via Model Mayhem
or her Vera Voodoo facebook page
Share on Facebook