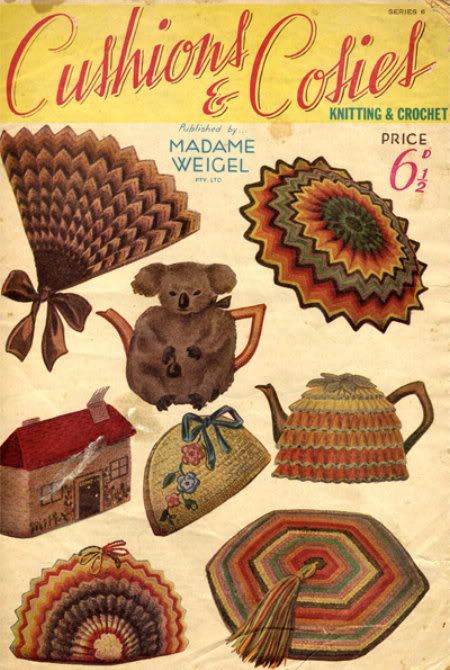 Well, well, well, I looked up tea cosy on the net. Yes plural is cosies.  It is amazing what you can find when you look…
Did you know that Wikipedia has a page on tea cosies? I was amazed.
Facts:
By tradition made from cloth or wool.
They often have padded inserts, which can be removed and washed separately.
( My mother had a cloth tea cosy in the shape of a house. It was padded. I remember playing with it. It was embroidered with little roses around the doors and windows. Having a flash back yes the padding can be removed. I think it had a sort of knitted area — a trellis or something and the roof had a chimney. There was no hole for the spout and handle it covered the whole teapot. )
So excited there is the house tea cosy on the pattern above like the one I remembered. I love the Internet!!!
Now on with the facts…
Some have been made with hidden pockets to be filled with fragrant herbs or flowers, similar to a potpourri.
Now that is a good idea.
Many tea cosies in Britain are hand-knitted, resembling woollen hats, even featuring a bobble on top.
This was the type I made when I learnt to knit. Easy garter stitch but introducing Twisting yarn and decreasing. The bobble was the best bit. This could prove tricky at first but so much fun. There were no plastic bobble makers. Well if there was I did not have one. (I have 2 now ~you have to move on with modern technology.)
I do like your Guest Designers – Megan & Mona – lovely Welsh label selling handmade crocheted tea cosies: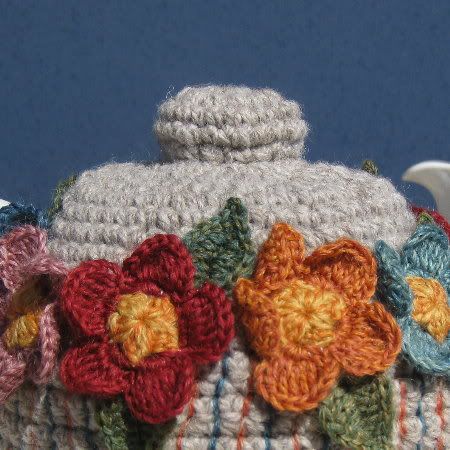 I looked up lots more and found this article for you on the Internet and thought it might be of interest.
The History of the Tea Cosy
-Article Submitted by: Suie Roberts
The tea cosy is a common every day object that probably doesn't seem very interesting. But it comes from Nobel origins, and was not only brought about to keep the teapot and its contents hot, but to also extend social activities. Pretty hard to believe isn't it, of a small knitted item that resembles a woolly hat?
The history of the tea cosy begins when tea was first introduced to Britain in the 1660′s, when King Charles II married Catherine of Braganza. Catherine brought to court the pleasure of tea taking. Of course the importing of such a luxury item was very costly and a pleasure only the aristocracy could afford until 1750 when tea became Britain's National drink.Colonialism and the ever-increasing empire meant that more exotic goods were being brought to Britain more often and more cheaply. But it is probably the Duchess of Bedford who brought about the popularity of the tea cosy.In 1840 the Duchess of Bedford established the activity of 'Afternoon Tea', an event that became so British that we still refer to four o'clock as 'Tea time'. During this era 'well to do' ladies didn't work, so the introduction of afternoon tea was a welcomed occupation. Unlike today, afternoon tea was a rather posh affair; the best china (usually fine China tea services imported from China) would be used and fancy cakes and pastries would accompany the tea. Usually invited guests or unexpected visitors would join in taking afternoon tea. The tea party would be served at a table, often in the garden during the summer months. The matriarchal figure would pour everyone's tea and in her absence another would step in which is where the term 'Shall I be Mother' originated. Afternoon tea was not only a happy pastime and a mini social event, but it was also a time for networking and keeping up to date with aristocracy gossip and topical news.
Of course with all the chatter at teatime the teapot would get cold. This, at times, would have cut short some tea parties, giving reluctant guests an excuse to leave instead or sending for a fresh pot of tea. And so, the tea cosy came about. A warm little jacket to keep the tea pot piping hot and so extending teatime."
via Article Blast
Visit Tea Cosy Folk for quality, hand knitted, woollen, character tea cosies. Tea Cosy Folk tea cosy designs are exclusive to The Tea Cosy Folk and not only look charming but also keep the tea piping hot ready for the second cup of tea.
Off to get the Knitting needles sharpened. Quite inspired. I will make a cuppa as well. A nice strong brew.
Love,
Ma
P.S Why not take the Tea Etiquette Quiz?

Share on Facebook