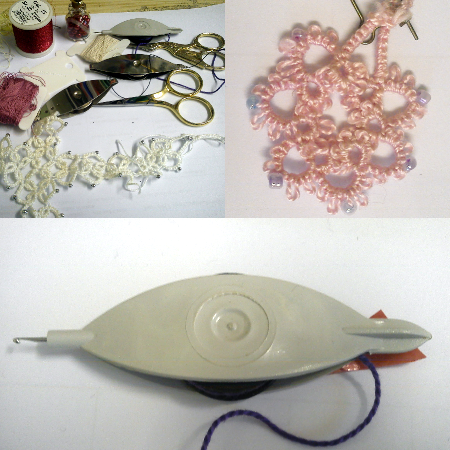 I have been thinking back to a few years ago when I was on a bus tour and where two ladies behind me were chatting. I could overhear them I was not listening intentionally of course! Well, it was a long bus tour and it was before my ipod days…
One of the women was saying she sat by a lady on a similar tour who was tatting. She went on to say that for the whole of the tour the woman wanted to teach her to tat. Ooh! , I thought, I would love to have sat by such a person and learn how to do that. At that moment I did not have the faintest idea what tatting was.
The lady with the loud voice ( ok I strained to hear what she was saying next ) said she told her(straight) she could not think of anything so boring as tatting. I thought that was a bit mean and I am sure it is lovely. My interest or nosiness was peeked, right peeked.
On returning home I decided to find out exactly what this tatting was. I got out my Reader's Digest Complete Guide to Needlework (don't laugh it is a good book and was all I had) and there was Tatting. Yesss!  I went and bought a shuttle,(in red) why I am telling you that I do not know and I found some crochet cotton.
The next dark wet day, a day a bit like today in fact, I sat down by the fire on a bean bag (again why do I need you to know that too, but it sets the scene) and learned to turn the knot. Several hours later and piles of bits of cotton on the carpet I managed it. I had not made anything but had learnt the basic stitch.
For the history bit. It is a type of lace making popular in the early 19th Century .However there is some evidence it goes back when the Fishermen started their net making. I suppose it all evolved from Knot making ..it makes sense to me. Lace was expensive to make so tatting was a cheaper alternative. Wikipedia has some notes!!
For the technical bit. It is made up of one knot (and yes it took me hour to learn it!!!) It is called double stitch. It is worked in groups over a single thread and pulled up into rings and chains and these are joined into larger groups to make motifs. This might sound like a crazy explanation but it is not easy to explain .You do need someone to show you or get a book with good pictures in.  Once you get how to hold the thread you are away. However if you pull and you have not made the knot correctly it is difficult but not impossible to undo and start again.
It is well worth learning how to do it because you can make some lovely things.
If you want to learn more there is a society called the Ring of Tatters they have a website. I think it is time to get excited about this old craft again.
There are not many books about tatting and some of the things I have seen are a bit twee for me. I must remember this was a popular craft in Victorian times! You can make beautiful jewellery with it and I think it is now time to go with modern ideas with an old craft and reinvent the wheel or the ring.
love,
Ma
Check out doit101.com for a good how to!
Share on Facebook