So it was that since 1st February this year I decided to go Raw.
Eating 100% raw uncooked food for 30 days. I sort of cheated as February only has 28 days at the best of times. But what a transformation I've felt only in the first week.
I didn't want to put any pressure on myself (as most will know any diet of any sort is sure to play mind games) so I didn't set any goals, just a "see how far you get with this Heath"
My premise was to:
- eat raw as much as possible
- eat when I wanted
- stop when I wanted
- be mindful of the food I was making
- make my meals with love
- take the time to clean and clear before sitting to eat
- eat mindfully
- use up the healthy ingredients I already have
- no wastage
Oh. Looking at the list it seems quite long but it was really easy to incorporate all of these elements.
A few days into the Raw food diet I had the most sublime Reiki Massage by the wonderful Janet Green at Strestless. This really helped keep my motivation high and mind on track in the early stages.
I found my sleeping pattern took a turn for the better very early on. I'd awake naturally and usually 30 minutes after would help myself to either some cereal that I still had (muesli or bran flakes) and soya milk or a big bowl of fruit. There wasn't a "lunch" as such, more when next felt like eating I would try to tune into what my body wanted out of the fresh stuff on offer. I found sometimes it would be a handful of various nuts, dried apricots and the like or big salads with queen and kalamata olives.
I experimented with some recipes and developed a "thing" for Kale & Tahini salad as shown here by the glorious Russell James – The Raw Chef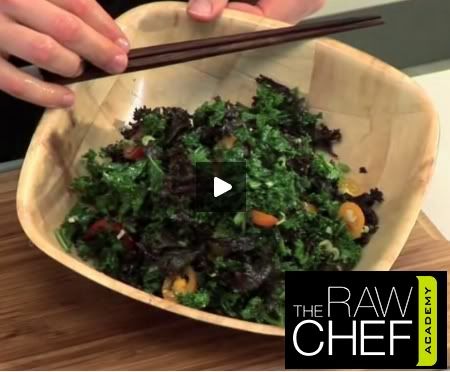 The highlight of the month came at the start of March with a Raw Food party hosted by Pip of Prana Yoga & Massage.
A fantastic night of like minded raw foodies. We all brought a raw food dish to share, the food on offer was delicious. I took the Kale & Tahini Salad along with a Raw Chocolate Torte (pic above). Everyone's dishes complimented each others, there was plum and orange salads, nutty beetroot salads, broccoli and creamed cashew salads, Greek feta salad amongst others and plenty to desserts too!! Even ice cream – brazil nut ice cream. It was heavenly and great to feel like I'd "pigged out" on the best available raw and vegan food around.
Pip treated us all to a vibrant green juice of spinach and ginger, followed by a carrot and apple juice. Throughly cleansing and totally delicious.
I'll be posting further updates, recipes and my story as I continue my Raw Food lifestyle.
Love.
Share on Facebook