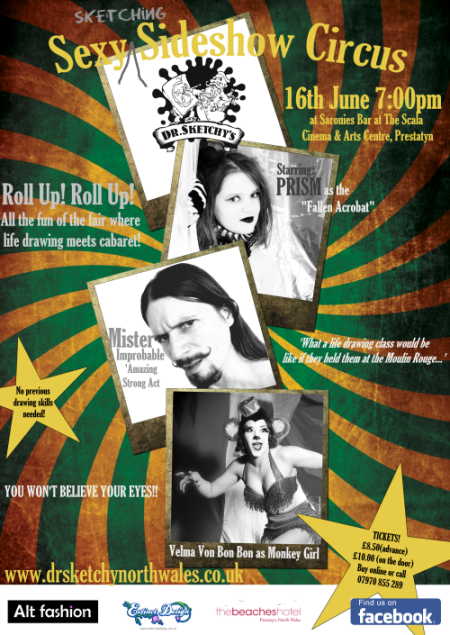 Get ready for entire weekend of Burlesque, Cabaret, Life Drawing and Circus Acts!
Roll Up! Roll Up!
Come one, come all, (that is if you are over 18 and absolutely fabulous, silly or have a unique party trick you're dying to share) for the Dr. Sketchy's Anti-Art Circus is in town with sights to dazzle and delight!
Another night of sexy sketching, performances, prizes, drinking all in the name of Art! Well, Anti-Art.
…Whatever your (you think) sketching skill level is –this night is for you!
You'll be set tasks and fun games all under the Big Top that is Saronies Bar at The Scala Cinema & Arts Centre, Prestatyn.
Who'll be there?
Prism  as'The Fallen Acrobat' – our ever changing goddess of disguise.
Velma Von Bon Bon as Monkey Girl – Yep, that's right you KNOW the one. We can't wait either
& Mr Improbable – Our Amazing strong act!  Be prepared to be said amazed.
Thursday 16th June doors open: 7:00pm – The Scala Cinema, Prestatyn
*drawing pencils, paper and boards will be provided if you don't already have a favorite stash that you can bring along*
Dressing up for a Dr. Sketchy Anti-Art School event is muchos fun! From anything like an over sized bow tie to balloon trousers – one night to get C-RAZY!
Tickets are £8.50 (advanced from the Dr. Sketchy's North Wales website) £10.00 on the door.
Click below on the BUY NOW button to purchase!

Friday 17th June from: 8:30pm – The GuildHall, Watergate Street Chester
MBNA Chestival – Vaudeville Weekend Presents; The Goldust Cabinet of Curiosities Grand Burlesque Ball
12 International Burlesque and Circus Acts, incredible costumes, live music & mayhem with;
Amber Ray The Salvadore Dali of Burlesque all the way from New York City in her Lotus Flower Dance!
From Paris Lada Redstar in her award winning ~ Insectiva Queen of The Bugs
From the underbelly of the Peruvian fire mountains ~Luna Rosa
Songbird Lola L'amour
Kitty Bang Bang Italian Burlesque festival winner ~The Fire Goddess
With compere Dez O'Connor and his banjo.
*****EXCLUSIVE DEAL FOR DR. SKETCHY'S ANTI-ART STUDENTS******
Tickets normally £15 advanced (£20 on the door) for Dr. Sketchy's fans just £10

Sunday 19th June 3:00pm -  An hour with Amber Ray – Waikiki, Watergate Street Chester
1st EVER Dr. Sketchy's Anti-Art School Chester!
You will hardly believe your eyes when you see the *sensational* Amber Ray.
Dubbed "…Creative Sexpot…" by NY Magazine and self confessed "Professional Sensationalist", known as the The Salvador Dali of Burlesque flown in all the way from New York to be with us for this fabulous weekend.
This is but a rare treat for us UK - Do. NOT. miss. out.
"My favorite model, Amber Ray, is a veritable chameleon…."
Molly Crabapple who started the Dr. Sketchy's Anti-Art school phenomenon
BRACE YOURSELVES!!!
This will be a mini-session but surly not to be missed
The hour of Sketching costs £6.00 – Tickets Available NOW!



- At each Dr. Sketchy's Anti-Art School Event, I take some Extinct Design goodies for you to buy. This month is going to see a new range from my good friend and designer extrodinaire ~ Weezi!
More on that next time!
xx
Share on Facebook