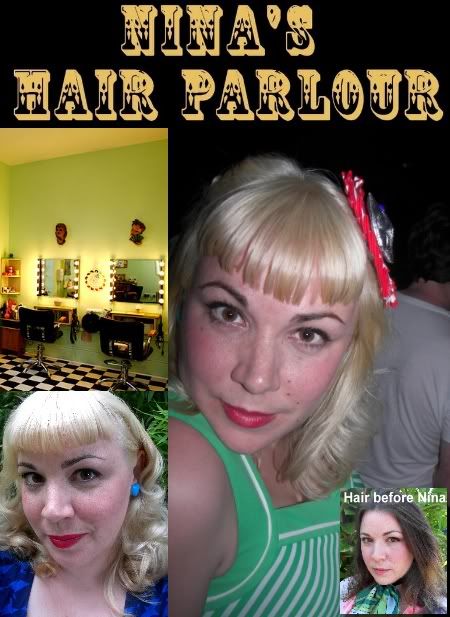 It has only been a matter of days since I took the plunge from a lifetime of brown to transform into a blonde and this was one transformation that was handled in style…
At Nina's Hair Parlour I feasted on fifties glamour, cupcakes and rockabilly rock n roll; getting up inbetween the bleaching for a little dance all decked out in my shimmering "Pink Ladies" style hairdressing gown! I knew I was in Vintage heaven – haircuts don't get any cooler than this.
With a quick, skill-filled snip of Nina's expert hand, she had crafted my new look and converted my to life time pilgrimage of 4-6 week visits.
Her expertise is more than noticeable as I thumb through the pages of "dos" she has done. She has surrounded herself too with fabulous pin-up looking lovelies with the same artistry running through their fingertips.
A wise man once said (aka Sammy at Nina's Hair Parlour) "Everyone should go blonde at least once in their lifetime!" and "Once you go Blonde – you never go back."
I now know he's right.
x
Nina's Hair Parlour is the first and only UK Vintage & Retro hair salon speacialist creating spellbinding looks for us lucky folk, bestowing her knowledge and skill gleaned from 15 years in the hairdressing world having also worked alongside fashion photographers, film makers, celebrities and burlesque performers. Also check out the parlour for handpicked, rare, original hats from the 1920s-1950s, extravagant, unique hair accessories and retro L'amour snoods…
Share on Facebook