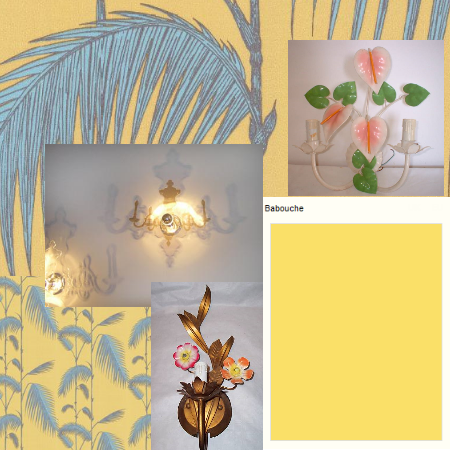 Week One – Show  & Tell
I've signed up to Apartment Therapy's Spring Cure 2010 and very excited about it! You can follow everyones progress on Flickr too!
I plan to concentrate on my hallway (image tray pic above) & kitchen.
Might keep adding mydifferent style trays / mood boards. I love making them up. You can probubly guess I'm pretty keen on pattern. I love to sit different patterns next to each other to see what works. I am undecided as yet to whether I want to continue with a cute country look in apple white and flowery patterns or edge more towards a funky finish with a mix of high design accents. Oh the choice!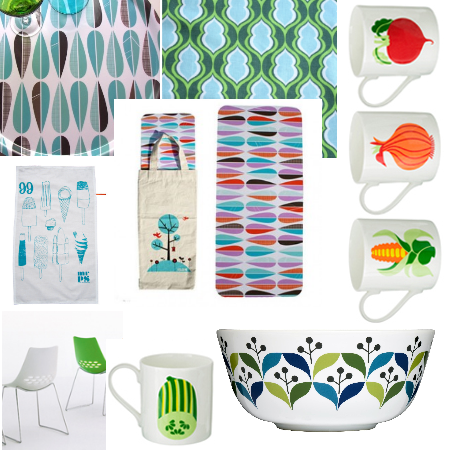 Those vegetable mugs are a must however and will have to work with whatever I decide.
So this is a brief overview of whats in order for this week:
I'm going to follow the still Deep Treatment tasks (although applies to your entire pad) but concentrate on the One Room Remedy, it will get me organised even if I don't tackle everything.
You can check out everyone's photos and how their doing in the Apartment Therapy Flickr Group, post your own or add comments. Its a fabulous community of interior design enthusiasts making their homes that every bit better one manageable task at a time.
Deep Treatment
- Make a complete list of repairs and solutions.
- Vacuum and mop the floors.
- Remove one item from your apartment and put it outside.
- Buy fresh flowers.
- Sit for ten minutes in a part of your home that you never sit in.
- Look into earth-friendly cleaning products.
One-Room Remedy
- Choose one room.
- Gather pictures of rooms you love.
- Start a style tray.
- Visit your favourite home store.
- Set your budget.
Decisions must be made but for now I s'pose I'm just a lil bit country… a little bit rock n roll… and a whole lotta kitsch! Hit it Donny n Marie!

My Flickr – www.flickr.com/photos/extinctdesign/
Share on Facebook