This kind of "hands on" art truly excites me – I mean how freaking cool is that?
Painting without the paint! Hurrah for no clean up!
Keeping his identity hidden the Invader is known mainly for his street art of mosaic tiled characters from the classic arcade game – Space Invaders.
Invading cities all over the world installing the mosaics on those places frequented by many people and more obscure locations. Other sites include the Hollywood sign and Jacques Chirac's lapel… Check out his invasions here.
As a logical next step to his work he uses Rubik's Cubes to build up striking images, coming fully equipped with the pixel like colourful squares to make up the desired image. Thus Rubikscubism was born. He says in one interview – "The Rubik's Cube is a fascinating object being very simple and very complex at the same time. The cube has over 43 billion different color combinations."
Growing up a bona fide kid of the eighties it was hard to miss the new graphic world that surrounded me. My sister in her polka dot t-shirt that made up a picture of Madonna, my bedroom a blur now of dots and dashes, bright red wardrobes stand blocking old Victoria Plum wallpaper… People swishing passed me  noisily in the mis-matching shell "suits" -angrily playing with their Rubik Cubes (or just trying to peal the stickers off)
I applaud the use of Rubiks cubes in this way, loving the idea of re-using something so recognisable to us as one form to be re-invented in another.
If you're itching to buy one (or perhaps a big box full?) check out the lovely Toyday for all your retro and traditional toy needs!
If you wanna get with the Rubikscubism vibe check out this ahead of its time 60s Dance-Floor Rubik Cube Top!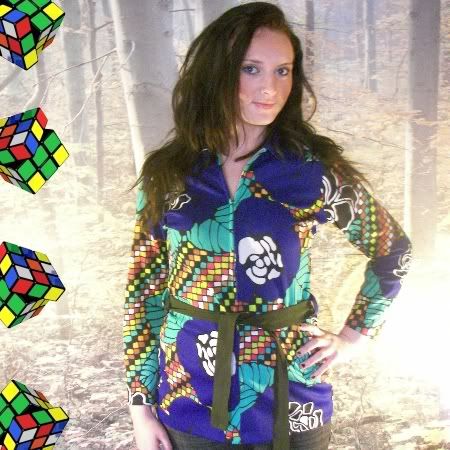 Share on Facebook