I remember some years ago a renewed spark of interest piqued in me for *aprons* Walking into Miju on a cold wet afternoon in Birmingham I loved their apron "uniform" I've since seen more and more shops and restaurants using aprons in this way and I think its the cutest thing!
I'm currently crafting an apron-come-craft-pinny with all the right pockets n places for numerous bits I haul from the house to the garden each day, keys (I like to lock up the house and feel like I'm off to "work" ), iphone (can't leave home without it), bottle of water, then there might be some post, receipts, paperwork, some new fabric buys, its amazing the amount of stuff I can bring back and forth… and although I love to have scissors and sellotape in every room in the house, I inevitably bring some to and fro… oh and my sketchbook! So yes, clearly a need. I'm making mine from scratch with remnants of material found in my stash. I want to make a few so I have a uniform too! (will post up some pictures when their done.)

If you fancy doing the same you can't go too wrong with fabulous creative community Burdastyle.com. Seriously anything for the modern girl to make and sew. Above is a hipster shop girl apron, a downloadable pattern and full instructions can be found here.
It would appear aprons have seen a bit of a revival of late especially twinned with 50s vintage looks, big circle skirts, rockabilly becoming ever more a popular look.
The fabulous creative brains behind Weezi took time out from sewing her fabulous fabrics and dreaming up more gorgeous designs for us to answer some questions in my first ever designer interview…
Take a look below at her fabulous vintage inspired fashions!
Strawberry Circle Apron, Full Bib Cherry Apron (available soon online to order in any size) &  Blue Cupcake Half Apron
Extinct: What are your biggest inspirations when designing your aprons? Colours? Fabrics? or the Style?
Weezi: For me it is a always about fabric first. I am first and foremost inspired by fabrics and the colours and prints in the fabric.
I am immediately drawn to bright vibrant colour whether it is a bold print or a dainty feminine print.
The fabric that I fall in love with will determine what kind of apron I will make because of the way the fabric will hang, gather, press, float, twirl etc.
A sturdy heavy weight cotton will make a lovely bib apron that will take lots of wear and tear. Where as, a floaty,light weight fabric will make a fabulous dainty hostess apron whose job is to look pretty.
When I am choosing fabrics and prints the end result is that
I want all my aprons to be very feminine and girly so I think the 2 go hand and hand when shopping and designing.
Heather: Is there a limit to how many aprons a girl should have? (I know I keep thinking up more ideas when to use mine! crafting and gardening!!

Weezi: LOL! Of course there is no limit to how many aprons a gal should have.
Just like shoes, sweater cardigans ,coats, handbags or accessories.
One apron does not suit all occasions just like one pair of shoes does not in any way suit all parties or events ( god forbid!).
A gal needs one apron that can really take some abuse in the kitchen for heavy cooking days or canning, Christmas etc.
It is pretty and is enjoyable to look at however,
this is the apron that you never worry about what you get on it.
It wraps around the back so you can wipe your hands on your behind as well as at the sides. It has big pockets and is long enough to use a hot mitt or to wipe something off the counter.
It should be a bib apron to cover the chest and keep away splatter from the blender as well as drips and dribbles from the wooden spoon while tasting.
Your crafting/gardening/cleaning apron can be a wee bit less "utilitarian" although it should also have deep pockets to help stash useful items. You also want a nice quality cotton because of multiple washes and stains. A floral pattern or interesting print is a good choice for these aprons because they will hide marks and stains.
I look for a nice ruffle on these because who doesn't want to look pretty and feminine in the garden? Ruffles and frills are a must while gardening or vacuuming.
Lastly, the hostess apron. This is more of an accessory then a functioning apron. This goes on after you have done all the dirty work in the kitchen. You can match it with your outfit, shoes or colour coordinate it. This apron is very pretty and often delicate in its appearance. Lighter weight fabrics and fancy trims can be used here.
Pretty ribbons and bows are a must.
There can be one tiny pocket for a hanky, a packet of matches or a tube of lipstick.
You need more then a few of these to be able to coordinate with the seasons as well as occasions and dresses.
These are often quite small and have a shorter tie for a small bow at the back. They never wrap around to the front.
They often sit high on the thigh as not to distract or cover up from the dress underneath.
Often these aprons could be lumped into the "lingerie" category of aprons.
So, you can see why a gal needs many aprons whether you actually are domestic or just want to look that way.
Extinct: Ha! Yes, now I feel I'm definitely lacking in aprons Hmm! Frills when gardening? Yes PLEASE…And finally, which came first the cup-cake revival or 50s aprons appeal?
Weezi: I think that the cupcake came a bit before the 50s apron appeal for many ladies. It did help to "modernize" it and give it that up to date appeal and take away the idea the aprons were for our matronly grandmothers.
The cupcake helped to make it more feminine and acceptable in a way that wasn't offensive to our "modern woman" or (dare I say it) feminist values.
A cute cupcake on an apron didn't mean you were bare foot and pregnant under the thumb of a man tied to the kitchen.
You were your own woman doing what ever the hell you wanted and looking damn cute doing it!!!
***
Thanks so much to Weezi for answering my questions ~ Do stop by her store to pick up one (or a few!) of her lovely designs, also available dresses, bags, accessories, journals and some cool crafty stuff!
Now if you do feel inspired to make your own (bet you're itching too!) Check out some patterns at sovintagepatterns.com, either to inspire or to make-up yourself. I looks like from the picks I took – I seem to favour the hostess apron… sounds about right. Begs the question "If you were an apron what kind of apron would you be?"
I never believed there could be so much variety!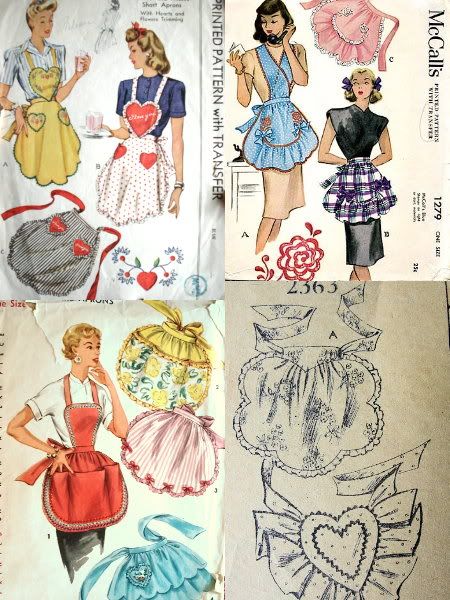 Also New in to Extinct some original Vintage embroidered aprons, with big scoop pockets, cross backed and in near perfect condition.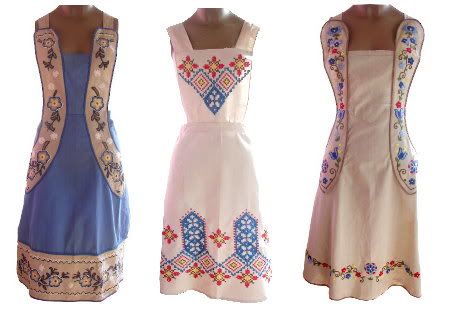 Check 'em here Vintage Aprons at Extinct.
Share on Facebook