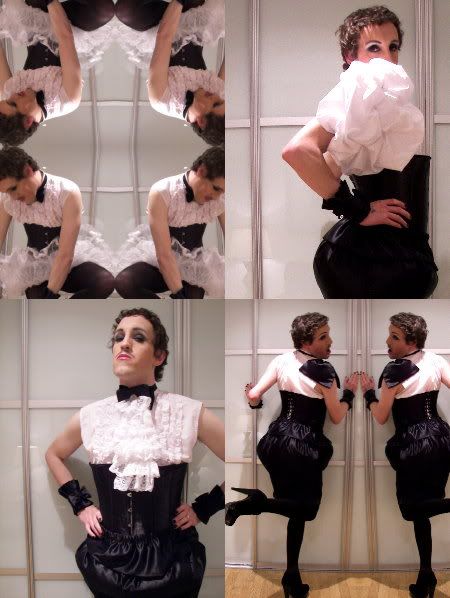 I love designing costumes, theatrical pieces and OTT outfits. Whether for someone I have known for years or someone I've just barely met. It's like working with a blank canvas and with no fashion limitations! Simply splendid!
I jumped at the opportunity to custom-make a 10+ piece costume for a client who was looking for something dressy, wearable, unique, without being too feminine to wear to the London Burlesque Festival. It had to include some frills, a bit of class yet totally commanding…
So I designed just that! A straight corseted torso with low bulbous shaped skirt, formed by the netted frill underskirt ~ The Manbulb. Made to measure to ensure an excellent fit and shape.
I wanted to create a new sort of outfit that wasn't gender specific. Also I've always loved the idea of reversible clothing, or items of clothing that can be used in a variety of ways, not only does it give life to different looks but it's fun to reuse them with other existing items in your wardrobe. The individual pieces work equally well as separates, such as teaming the frilly shirt and cuffs with some worn denims, wear an existing vintage tee with the over-sized bow or neck frill, or the net skirt with something more flouncy! The costume and the separate pieces could easily keep re-inventing themselves.
To see more photos and read more about The Manbulb
If you are interested in having an original, just made for you costume or piece just get in touch – we'll have a chat heather@extinctdesign.co.uk
So now that the costume was ready it was off to the shows! We were only allowed to take a few inconspicuous snaps really as the night was a sort of "Turn of Phones, Forgot your Cares and Take in the Sights!"
So we did just that! First port of call was The Vauxhall Tavern for  a night of  Twisted Cabaret. Arriving fashionably late to an nicely packed out space, we all had to huddle in which was not too unpleasant. We even managed to cop a squat (not sure that's Burlesque speak but  ho hum…) near the front. I like that I always manage to find the perfect spot. Ha.
I was wearing a blue and silver vintage crochet dress that was quite heavy and my new smelly Vivenne Westwood shoes which were also blue and silver.
Each act was very different from the other, ranging from Japanese computer cartoon character like performances to flaming nipple tassels. My favourite performance of the night was a beautifully costumed and regal courtship dance of the "male" and "female" set to a backdrop Renaissance harpsichord music!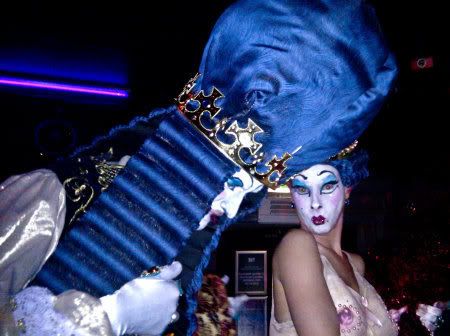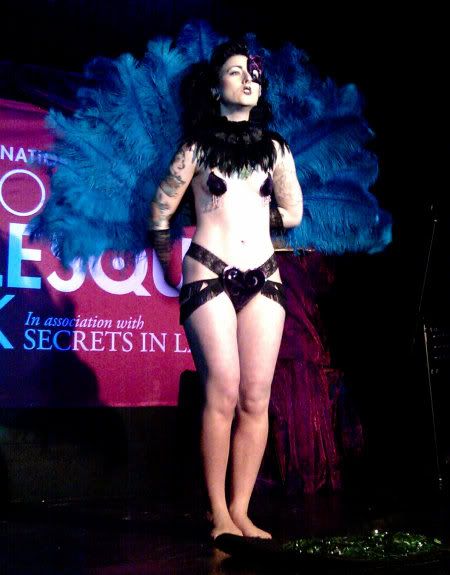 Above: Pic of peacock blue fan dance just before a spot of walking on broken glass… Twisted Cabaret indeed.
The second night had us setting off for the beautiful Bush Hall, Shepherds Bush and a night at the Sexy Sideshow Circus in store- lots more traditional burlesque acts, cheeky, fun and very amusing all made for a great night at the Circus with Armitage Shanks compering.
Some pretty in pink pictures of performers performances with Beeby Rose (who concluded proceedings with a spine tingling pink feather shimmy!) & Chaz Royal (the producer and founder of London Burlesque Fest)
If you're thinking of going next year…. do.
Heres some more photos and review from the Guardian.
Share on Facebook