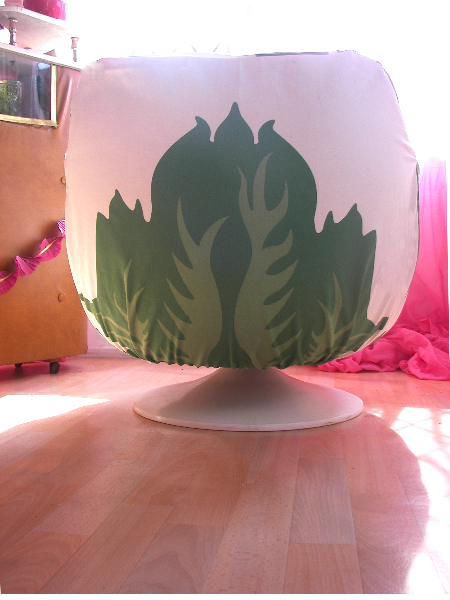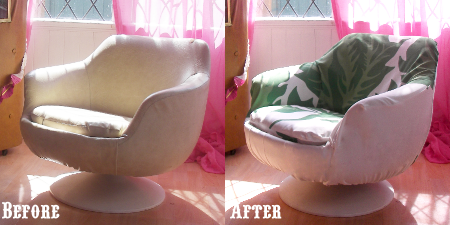 I've finished covering this 60′s swivel chair with some rather splendid bright green and crisp white fabric. Working with no pattern is really liberating itching to do some more make-overs now. I used some old cheap material to mock up first in order to get the right shapes, then it was a matter of simply stitching it all together, ironing those seams open so they stay nice and crisp, sewed a hem with elastic inside and pulled it taught over the chair. Lovely!
Still enjoying the focus that the Apartment Therapy Spring Cure is giving me, so inspirational to see others progress too!
Here is my update!
Deep Treatment
- Clean up living room and related closets.
- Repairs are being taken care of this week. Bathroom window edging fixed.
- Declutter books and all media. CD's on Amazon -Check, DVD's Ditched – Check, Beloved Books – Stay.
- Cancel 75 percent of the catalogs you receive. I did this with all the junk e-mails I get! Marvellous stuff. Will continue to do so too.
- Empty Outbox this week.
- Confirm what you need to increase or decrease color in each room. More apple green & fresh white in kitchen, more mustard and turquoise in the Hall
- Identify what you need to increase or decrease softness in each room. Fabric! Bliss!
- Cook three meals at home this week. We cheated as we went to my folks and ate, ate, ate. So this one is done!
- Send out your invitations. I will be combing the end with a Vintage Dressing Up Party! Invites to be sent. Date confirmed.
One-Room Remedy
- Begin Shopping List and enter all prices into a spreadsheet. Like I don't already have one of these? Spreadsheets for everything including coloured columns…  its the doing part that I'm still building up to!
- Decide on the total scope of work to be done. Step away from the spreadsheets…
- Consider hiring a professional organizer. What? Huh You mean there is a job for that *considers changing careers*
- Visit a paint store this week to find samples. It's my secret shame to  raid the colour samples…
If you are doing up your bedroom – don't forget to treat yourself after all your hard work with some of my lovely scented wardrobe and drawer products!

Share on Facebook