Posts Tagged 'anti-moth'
Friday, July 30th, 2010
Don't let it happen to you!
Get anti-mothra products here!
Share on Facebook
Wednesday, April 14th, 2010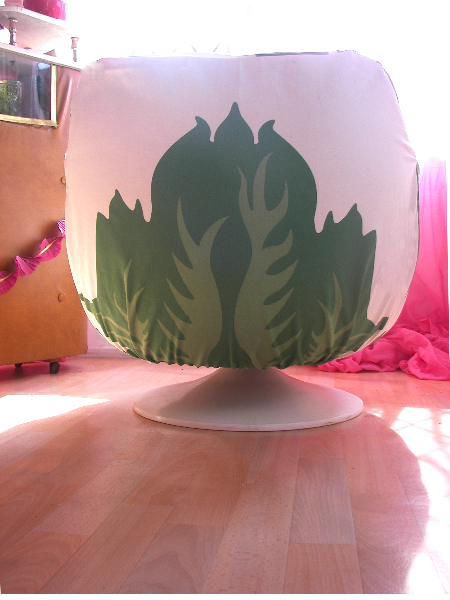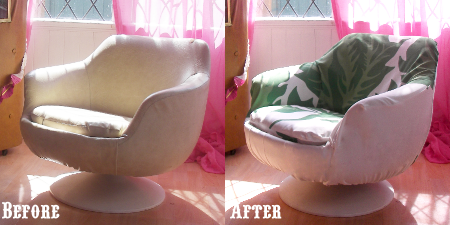 I've finished covering this 60′s swivel chair with some rather splendid bright green and crisp white fabric. Working with no pattern is really liberating itching to do some more make-overs now. I used some old cheap material to mock up first in order to get the right shapes, then it was a matter of simply stitching it all together, ironing those seams open so they stay nice and crisp, sewed a hem with elastic inside and pulled it taught over the chair. Lovely!
Still enjoying the focus that the Apartment Therapy Spring Cure is giving me, so inspirational to see others progress too!
Here is my update!
Deep Treatment
- Clean up living room and related closets.
- Repairs are being taken care of this week. Bathroom window edging fixed.
- Declutter books and all media. CD's on Amazon -Check, DVD's Ditched – Check, Beloved Books – Stay.
- Cancel 75 percent of the catalogs you receive. I did this with all the junk e-mails I get! Marvellous stuff. Will continue to do so too.
- Empty Outbox this week.
- Confirm what you need to increase or decrease color in each room. More apple green & fresh white in kitchen, more mustard and turquoise in the Hall
- Identify what you need to increase or decrease softness in each room. Fabric! Bliss!
- Cook three meals at home this week. We cheated as we went to my folks and ate, ate, ate. So this one is done!
- Send out your invitations. I will be combing the end with a Vintage Dressing Up Party! Invites to be sent. Date confirmed.
One-Room Remedy
- Begin Shopping List and enter all prices into a spreadsheet. Like I don't already have one of these? Spreadsheets for everything including coloured columns…  its the doing part that I'm still building up to!
- Decide on the total scope of work to be done. Step away from the spreadsheets…
- Consider hiring a professional organizer. What? Huh You mean there is a job for that *considers changing careers*
- Visit a paint store this week to find samples. It's my secret shame to  raid the colour samples…
If you are doing up your bedroom – don't forget to treat yourself after all your hard work with some of my lovely scented wardrobe and drawer products!

Share on Facebook
Monday, March 8th, 2010
Banish moths, bugs be gone, let the gentle fragrance waft over you from the new Anti-Moth and wardrobe care items in store!
Every year I have increasingly become more enthused about the Spring Clean – and this year I have even more reason to be excited!!
Cue the beautifully packaged range of sweet smelling anti-moth and wardrobe care products now in store!
The moth season starts end March/April so you should be preventing now and getting your wardrobes ready to avoid any nasty surprises later on!
Click for more information on the blend of essential oils used in the products and my Guide to Vintage Clothes Care. Why not treat yourself to the lovely items as your special reward for your Spring clean!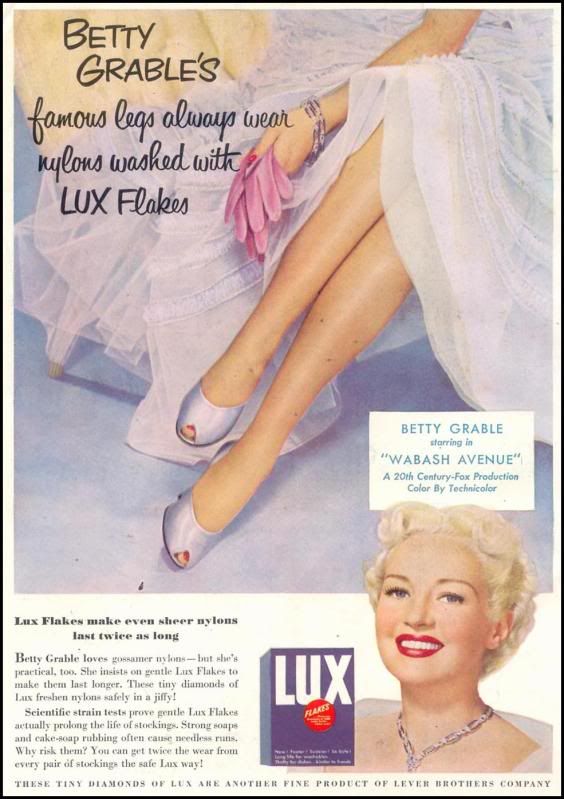 Betty Grable – The original pin-up girl advertising Lux Flakes.
Wilkaniko have a great range of eco-friendly products for your laundry as well as your house to get you ready set for the big clean!
I especially like the Soap Flakes. I have a vague recollection of seeing these ads in old, old magazines. Do you remember Lux soap flakes? These soap flakes are made by the company that used to make Lux! Soap Flakes are predominantly pure soap – with no added perfumes, enzymes, bleach, phosphates or additives, so you can be confident that they will degrade harmlessly without damaging watercourses and aquatic life. They have not been tested on animals and far less likely to cause skin irritations than regular detergent washing powders. The packaging is made from 80% recycled board.
These flakes are perfect for your vintage garments, gently handwash or pre-wash out any stains with the flakes before putting really delicate items on a cool delicate wash.
Top Tip! Try a homemade laundry recipe – easy on the pocket and your conscience.
Simply add 16 tablespoons of Soap Flakes, 8 tablespoons of Borax substitute and 8 tablespoons of Soda Crystals – all available at Wilkaniko to an airtight container and shake up the ingredients. Use two to three tablespoons of the mixture in your washing load. The washing powder will last for approximately ten washes, with the average cost of about 20p per load.
Need a little help? If you can't get your clean on to these 80s babes nothing will get you grooving!
Lets hear it for the Pointer Sisters!! I said TURN IT UP!
Share on Facebook