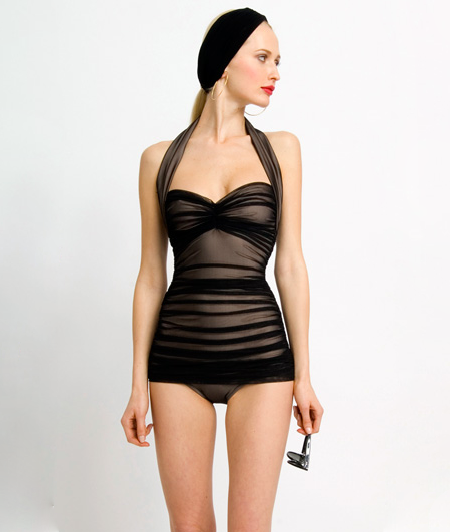 Ever dreamt of a swimming costume that is so utterly gorgeous you'd look like a Fifties Starlet on the beach?
Well, New York designer Norma Kamali has recreated the fantastic look with designs which hark back to the Fifties, when women  were well groomed and demanded good tailoring. The Fifties glamour puss had an hour-glass figure and rarely wore a bikini.
The swimsuits of the Fifties were often apron-style and had flattering detachable, halter neck straps with ruching at the front.
Norma Kamali has definitely made a beautiful job of re-creating the starlet look for the women of today. This swimwear is so stunning we here at Ollie&Agnes would be scared to get it wet, however we do live in hope that it would detract attention from the body IN it! We also know we would feel a million dollars in it with all it's ruching, attractive halter neck and diverse shape.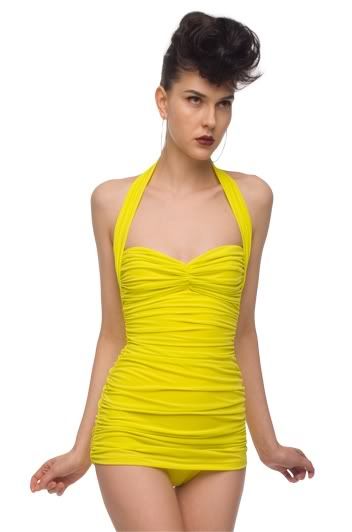 Norma Kamali has been creating innovative clothes for 15 years, and is most famous for her sleeping bag coat, and for using actual parachutes to make clothing. As well as the starlet-style costume, there's a massive selection of really original pieces.. something with ruffles and frills or a leather look, black costume she has everything! Sections include Swim Jersey; Goddess Swim, Swim Ruffle and Foil.
PS: If you fancy an Original swim suit check out Extinct Design's Glamourous vintage tiger print number!
Share on Facebook