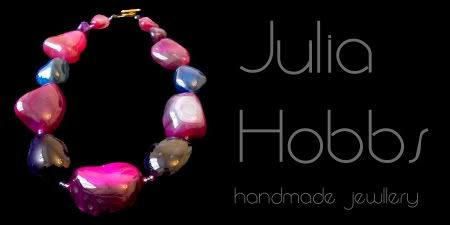 I'm thrilled to announce Extincts newest Guest Designer! Julia Hobbs.  A most facinating and informative interview I'm sure you'll agree!
Your work involves a lot of colour and coloured stones.  Tell us more about your relationship with colour.
I'd say that colour is my thing.  I have synaesthesia, which means I respond to colours with a mix of emotions.  Cerise pink, bright purple and Chinese blue make my mouth water as they "taste" great, along with zesty greens.  White, for reasons that I cannot explain, means Saturday: it's a day off, a blank canvas, a fresh start!
I'm a trained colour consultant, so I tend to judge colour by depth, temperature, tone and intensity.  I also carry colours very well: I know instantly what works with what and I find it easy to create matches, blends and contrasts.  When I'm painting, I instinctively know how to mix any shade I desire; it's a useful skill for touch-up jobs.
When I make jewellery, I stick to certain colour rules.  Colour is light and it "travels" at different speeds.  Our aim when dressing should be to arrive ahead of, or at least at the same time as, our outfit.  If people compliment your outfit, it's possible they haven't really noticed you.  If people tell you that you look great, you've probably got the balance just right.  My piece Royale travels very quickly: the red is cool and it balances the turquoise blue.  That sounds odd doesn't it?  Obviously red should be a warm colour, but it's cool thanks to its blue undertone.  This piece is particularly suitable for anyone with a pinky-blue undertone to their skin and will look best either on a woman who is pale, but with dark hair and dark or bright eyes or a woman with cool black skin.  I'd recommend it to a woman who is comfortable wearing intense, cool lipstick.  For someone with peachy, olive or brown skin, the reds should have an orangey undertone.  Brick reds work well, along with yellowy-greens for a contrast that works well.  I stick to my colour rules because I want to know that my pieces work for the wearer.
If you're ever in doubt about which colours suit you, then here's a useful tip.  Purple is the most wearable colour in the world.  It's the perfect balance of warm and cool and people respond well to its qualities.  It's impossible to be hurtful to someone wearing purple, so it has a protective strength for the wearer.  Of course, if you can't decide whether you suit lavender, lilac, plum or aubergine then you might need to ask a colour consultant for help!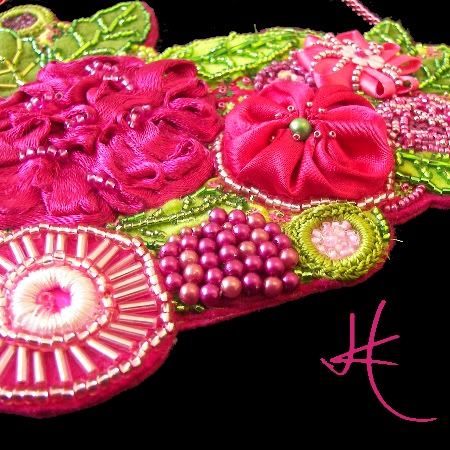 Who or what has been your biggest inspiration?
Synaesthesia is a huge inspiration for me: I see patterns in everything and when I was a child I was sure I wanted to be a pattern designer.  I didn't know whether that job existed, I just knew it was what I wanted to do.  Of course, you don't spend your childhood knowing that you see, hear, taste or feel things differently from others.  But once you learn that synaesthesia is the root, everything falls into place.  I feel a bit sorry for people who can't see the patterns in music, who don't taste colours or who don't know what certain words feel like when they trigger a sensation.
Discovering semi-precious gemstones was a huge inspiration for me.  I find them intriguing: their texture, their colour, their story.   Whether it's the clarity of clear quartz, the gentle warmth of Picasso jasper or the occasional flashiness of labradorite, I can find a new home for a lovely stone on one of my necklaces.  I'll spend hours mixing and matching stones to create a unique look.
I'm an accessories addict and fall hopelessly in love with almost every type of jewellery, scarf, bag, hat, glove and boot.  I also love my music and sewing bib necklaces began with creating neck-purses in which to house my iPod.  I couldn't stop at one iPod cover: I had to make purses for every outfit, then a selection for every outfit and before I knew it, I had over 100 neck-purses.  I sell them now.  Apparently, there is a limit to how many neck-purses one needs to own.  Fortunately, there isn't a limit for jewellery, scarves, bags, hats, gloves and boots.
Discovering a jewellery stall in a now defunct market in Greenwich was a game changer for me.  Three artists (one French, two Dutch) had combined their talents to create a wealth of beautiful pieces.  I spent a fortune on their stall over the next couple of years.  Well, that's not strictly true.  I used to send my husband to his cash machine, while I fiercely guarded the designs I wanted to buy.  In fact, it was my husband who persuaded me to make my own jewellery.  He thought it would keep me out of mischief . . . silly boy!  Hervé (the French artist) taught me how to make my own pieces and for a while, it was enough that I made jewellery just for me or my mum.  That didn't last and I began selling jewellery at craft fairs and later at Afonwen Crafts and Antiques centre, where I continue to demonstrate occasionally.  I made my first lots of jewellery by breaking up old necklaces and creating new designs.  These days I source gemstones from all over the world, initially meeting contacts at IJL: the International Jewellery London trading event.
Artistically what has been your biggest challenge?
My first big art challenge was to create an arts project suited to a child with a disability.  I visited a toy library for inspiration, as my school was planning a large mural-type jigsaw.  However, when I talked to parents, it was clear that bath-time presented the biggest problems.  I set about designing a sloping, non-slip bath.  I won a NatWest Bank award for this concept.  The £250 prize was split between my school and me . . . I got a fiver
for my efforts.  I was, however, selected to represent my school and meet HRH Princess Margaret which was a thrill – even though that meant I was late back for my O level Dress & Design sewing practical.
My second big challenge was the O level Art & Design practical.  I've always gone my own way with arts and crafts, so having to create a piece of work to a specific brief was terrifying.  It wasn't that I had limited choice – the range of options was huge.  It's just that nothing triggered my interest, so in desperation, I selected "A Farming Scene".  I'm a farmer's daughter, so it made sense.  Still unhappy about the selection, when it came to the exam itself, I painted two very detailed cockerel heads and three very detailed feet, all in random positions on the page.  I surrounded them with swirls of grey and a few tail feathers sticking out at the edges and called it a cock fight.  I got an A for Art & Design, so presumably the examiner liked it.
I suppose the biggest challenge thereafter was to get a proper job!  My art/design plan was put on hold because my careers service assured me that I could always paint, but I needed to use my brain.  I'm passionate about health and have pursued a career in this.  When I know I'm helping create something new, a better experience for patients or a health promotion campaign, it feels great.  When I'm battling with bureaucracy, attending meetings and losing time and light (the essential ingredients for any artist) I stew resentfully…
What are you currently working on?
Just this minute, I'm waiting for a gemstone shipment from Brazil so I'm trying to hold fire and not design a necklace until I can get a feel for my new goodies.  I'm sewing lots of flowers for my mum, as she has requested a felt bag festooned with them.  I'm also building a collection of paintings for a planned exhibition in September.  I'm slightly changing my approach to painting.  I generally paint scenes from nature – I especially like animals and birds – and tend to be colour and detail accurate.  This time, I'm being more experimental with colour and technique.  It's exciting and alarming and I have no idea how it will be received.
Last week, I bought 41 new tubes of seed beads and I'm itching to make some new bib necklaces, but I need a clear day to play with colour combinations and that means waiting for the weekend.
Tell us of your typical day when working on your jewellery
Mornings always feel wasted because I rarely actually "do" anything.  I play with stones or fabrics, I lay lots of things out and then put them away again and try something else.  A constant stream of tea will appear, courtesy of my husband.  Once I've settled on what I'm going to work on, the concept of time all but disappears.  My dog will occasionally pester me for some attention and my husband – who has long since abandoned the idea of being a kept man – will interrupt proceedings by insisting I eat the supper he's made.  Now and again he'll call up to say "Supper in 5 minutes" and 10 minutes later he'll remember that I'm in the zone and have forgotten how to count.
Do you feel an affinity with one certain stone over others?
Yes and No.  Some of the most enchanting stones don't really suit me to wear, though I love to work with them.  Botswana agate is a case in point.  It's gorgeous and no two pieces are alike, but it's generally too warm for my skin tone unless I strike lucky with lots of white.  Agate polishes extremely well – it can look glassy and it feels cold to the touch.  It looks beautiful with stones that have similar clarity.  Jet is also fabulous, though quality jet is increasingly difficult to find.  Though it looks cold and glassy it's quite warm to the touch and being fossilized monkey-puzzle tree, weighs nothing.  Many vintage pieces that are sold as jet are actually black glass and have substantial weight.
I like the gnarled look that comes with lava stone and tektites, while kyanite, iolite and apatite offer some of my favourite blue colours.  Many stones take a stain particularly well and their colours and patterns are beautifully enhanced by them.  I'm all for dyed stones: it gives them new dimensions and added excitement.

Can you spot which stones someone might be "drawn" to?
I can spot which colours and textures will suit; other qualities are more subtle.  Semi-precious gemstones have been used for their healing and protection properties for millions of years.  Some of my customers feel necklaces before they really look at them; it's as though they're reading them through their hands.  I recall one woman feeling very stressed because her children were playing up.  She grabbed a rose quartz necklace and stood still until she felt relaxed again – then she put it back and walked away.   Not buying it meant that I was then stressed, so I held the same necklace for a while too!
Some people have great instincts for what stones work for them.  I can tell from their smile that a piece is speaking to them and it's a particular thrill for me to know that my customer has an emotional connection with a piece of jewellery.  I'm also very happy to break up a couple of pieces to create something new, if that's what my customer wants.  If she's struggling to choose which piece to buy, I'll ask her about the design elements that most appeal and I'll merge these to create something more desirable for her.  No matter how much I love a piece, as soon as it is bought I let it go from my mind.  That said, I did merge two necklaces for one customer and found it hard to accept payment: it was so beautiful, I really wanted to re-create it for myself.  But, I never repeat my work.  All my necklaces are unique.  After all, what's the point of having a statement necklace if you're making the same statement as thousands of other women?  There's nothing individual about that!

Can you give us some advice on how to choose which stone/colour might be best suited for us?
The best way to work out colouring is to stand in front of a mirror in good, natural light and hold up lots of fabrics to see which work.  When I'm colour consulting, I stand behind the client facing a mirror.  I hold up a sheet of plain cotton behind her head: this helps me judge speed.  If I see the colour before the face, it's too strong.  I then place the cloth on one shoulder and look for reflection in the face.  Orange on my shoulder makes me look blotchy, while muted shades make me look sallow.  I come alive in pinks, purples and blues.  Black is an excellent test and anyone can do this.  I recommend privacy – it can be devastating.  Stand in front of a mirror with as much of your skin on show as you dare.  Holding a length of black fabric (or any black garment) in both hands, slowly bring it up towards your neck.  Focus on your face, neck and décolletage and look at what's happening.  Is the black casting shadows on your neck?  Can you suddenly see wrinkles that you weren't aware of?  Now your face.  Does it look like you have big, wide nostrils?  Bags under your eyes?  Crow's-feet perhaps?  Almost every facial blemish looks bigger when framed in black.  If you look fine, that's great.  You suit black.  If any of the above things happen, black is too much for you and it needs rescuing.  Jewellery is a great rescuer – especially a bib necklace that covers a bigger area and sets up a better reflection for your skin.  Another rescue plan is to wear enhancing colours near to your face.  Hair bands, earrings and fascinators are great because they draw the eye away from what's going on lower down.
If you're thinking that you couldn't possibly give up black because it has a slimming effect, here's the bad news.  Black tends to add pounds.  It's slimming on someone very skinny, but if you're built to a grander scale, you'll find that black blocks the light that would normally give your figure its definition.  Dracula wore a black cape to look big and menacing; it wasn't  a slimming device!
If you can't wait to read some more from Julia then you're in luck! Julia has agreed to share her expert eye and knowledge of stones, colour and its healing power on the Extinct Blog – so make sure you've signed up for it!
To visit her shop click here – Julia Hobbs Handmade Jewellery

Share on Facebook
Tags: beaded, beads, bib, bib necklace, color, colour consultancy, colour rules, colour therapy, extinct design, gem, gems, gemstone, gemstones, handmade jewellery, jewellery stall, Julia Hobbs, necklace, necklaces, rose quartz, rose quartz necklace, semi-precious stones, synaesthesia