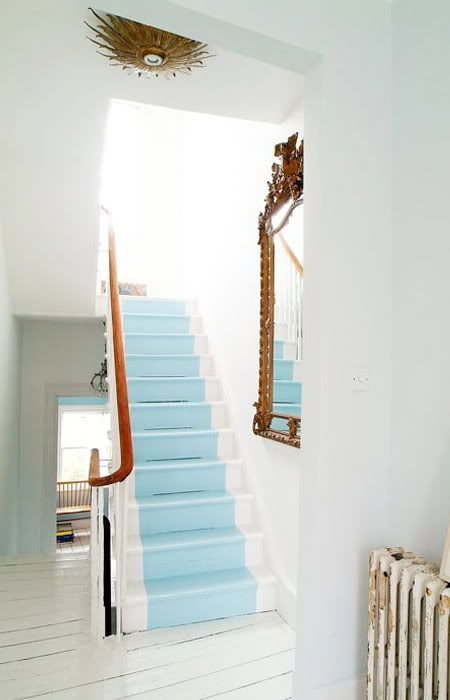 Made some headway with the hallway this Bank Holiday weekend, sanding and measuring out the lower steps, deciding and un-deciding on colours and finishes. I'm posting up some pictures that really inspired me and kept me focused!
Above photo from Skona Hem – lovely fresh colours mixed with antique gold.
I love the idea of inscribing something on the stone steps into the kitchen, will have a go at penning my own little proverb. The Orla Kiely paper used on the risers in the third pic looks amazing too – the bright colours really ping against the white steps and walls.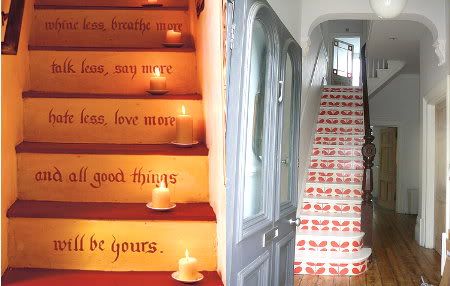 © Keith Scott Morton
This week on the Apartment Therapy Spring Cure site the "Landing strip" was up for discussion. That place in a porch or hallway where things get dumped your keys, shoes, post, those bits from your handbag.
Our porch is tiny but still could be slightly better organised. After cleaning out everywhere, I re-painted the front door (its pink!) shook out the mat (must buy a new one added to the list) and measured up for a shoe rack, this one will have to be made by us, as the space is very narrow with uneven stones jutting here and there.
The list set by the Spring Cure
Deep Treatment
- Vacuum, dust, and mop (wet or dry) throughout your home. - All Done
- Clean your entrance and any related closets. Yep, taken care of.
- Arrange to have all repairs taken care of in the next three weeks. I made a list, will be calling and arranging this will feel like bliss at the end of it. I think of all the repairs to do all the time – but to consolidate and get them done – GENIUS! ;P
- Declutter your entrance. Done & Done (just need to train up G)
- Move all old mail, catalogs, and magazines to the Outbox. Straight into the dog grate
- Look into what you would need to create a Landing Strip. Wood!
- Identify cool rooms and warm rooms. This was an interesting exercise… you think you know a place…
- Apply the 80/20 color rule. I haven't really followed the 80/20 rule in colour, I like a lot of colour and pattern but keep it strong and in blocks, will add some more pictures to my flickr at the end of the cure.
- Cook two meals at home this week. Failed on this one really, had great intentions to make something lovely from scraps, but with all the Easter chocolate to clean up – whats a girl to do?
- Design an invitation for your housewarming. Didn't get round to this either – but did design some rather nice badges! They'll be on the site super-soon!
On to Week 4 and it's Retail Therapy!

Share on Facebook
Tags: apartment therapy, hallway, landing strip, Spring Cure 2010, stairs, week 3 spring cure 2010