Make up this Daffodil Easter Basket for your little bunnies… or even yourself (we all need something stylish and cute for the many, many chocolate eggs that will be coming our way!)
First gather your materials:
Yellow felt
Co-ordinating basket lining (I've used vintage flowery material)
Interfacing
Scissors
1. For ease make a template for the petals and cut out 6 – try drawing it free hand you'll surprise yourself how easy this is!
2. Use a small bowl to trace around and cut out a circle to attach the petals.
3. Cut a rectangle out of the felt for the main body of the Daffodil. In order to get the nice trumpet cone shape,  cut each end with a diagonal, this will create the desired shape. Repeat with the lining material and stitch together.
4.  Next cut a strip of felt, (mine measured 10 x1 inch) interfacing and lining for the handle and fuse together. Hand sew into place.
5. To create the trumpet frill cut a long strip of the felt,  stitch wide tracks down the entire length. Pull on the threads to get an even ripple and stitch to the rim.
6. Go off skipping on your Easter egg hunt!
Searching for all things Easter I had my fake bunny ears stand on end when I found Boopsie daisy's Flickr page. Images flooded with colour and love.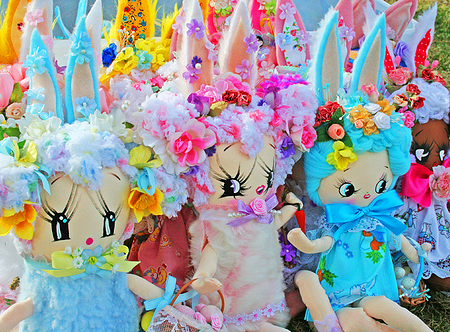 How could I (how could anyone) resist  falling in love with the colours, the flowers, the fun and the bows… this is the world in which I'd like to live… candy coloured forever spring like world…
Boopsie prints feature wide-eyed dolls, dressed up all purdy-like and photographed in the prettiest settings. As with all her prints they evoke that feeling of childlike wonder. Delight your eyes with them at her etsy shop.
Images to make your eyes pop and your heart bounce!
There is a delightful mix of vintage dolls like Kewpie, Strawberry Shortcake and  Blythe as well as the original Boopsiedaisy dolls that feature in some of the prints – Boopsiedaisy dolls are also available to sell.
Surly the love affair with Blythe dolls universal, shes a different doll to the Barbie, shes' unique, probably a vintage gal (she was first made in the 1970s) has that wide-eyed innocent look that is both thoughtful and creative.  Poetry dances in her eyes, adorable, sweet. You just get a feeling she would make the best of friends too. See her below in bunny-ears with all her bunny friends, no doubt off to plan some merry Easter games.
Share on Facebook