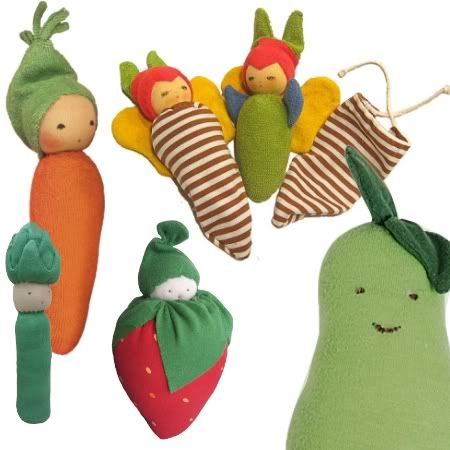 It's only mid February and I'm feeling somewhat Springlike! The weather along the north Wales coast has been clear and crisp with all the promise of new life and spring flowers. That coupled with the adorable new range of hats from Ollie&Agnes – Little Veg Patch -  has kicked me out of my Winter slumber giving life to new ideas sprouting forth, growing…
A close friend of mine is due to have her first baby girl in a couple of weeks and I've been on the look out for something special for the nursery. I love the range from Organic Toy Company… in the organic garden, fruit and veg shaped toys starting from £6.99. Ethically Made, natural and organic.  Not only is there a super cute , super soft looking range of toys available, the textiles used are made from certified 100% organically grown/produced fibres that are hypoallergenic.
I'm completely in love with the organic cotton butterfly which sleeps in a removable chrysalis drawstring bag. It has a little red hat with green peaks as feelers and softly shaped yellow wings. Once emerged from its chrysalis, it has a green body shaped to a gentle point, with little blue arms. HOW CUTE?! Such an adorable item. (Ok am I gushing too much? Just looks so peaceful.)
I was lucky enough to actually watch a butterfly hatch from its chrysalis when I was little, that whole process has held such a fascination for me. Like unwrapping a wonderful gift, coming up with a new design or hatching a master plan (Mwha ha ha!) that excitement and potential is thrilling. A perfect gift I think the for a newly born girl.
The site is bursting with interesting information, links and set out in such a way that it is easy to find the perfect gift quickly!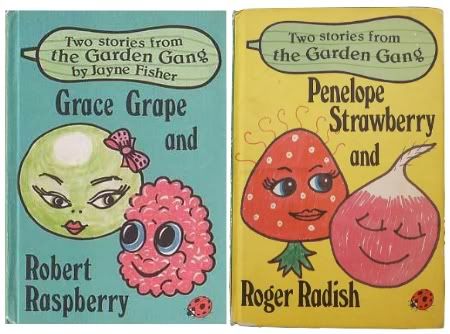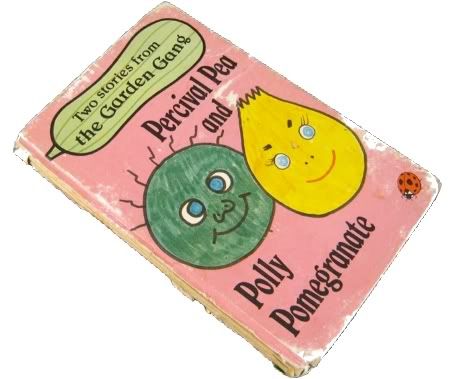 With my head full of fruit, veg and garden beauty I have been reminiscing about the Ladybird Books ~ the Garden Gang ~and their fabulous scratchy felt tip drawings. They stood out to me on my book shelf as their drawings were really free, sometimes imperfect and not dissimilar to my own… I don't think I realised at the time they had been written and drawn by someone who was only a couple of years older than me! Jayne Fisher – who at 9 years old was the youngest author ever to write for Ladybird Books. Some of the rarer titles are back in demand, fetching high price on Amazon and ebay.
Don't forget check out Ollie&Agnes's new range of Little Veg Patch hand-knitted hats. Perfect for little helpers in your early spring garden.


Share on Facebook
Tags: ethically made, flowers, fruits, hand knitted, jayne fisher, Little Veg Patch, natural, organic, Spring, spring flowers, strawberry shortcake, the garden gang, toy, toys, vintage, vintage ladybird books