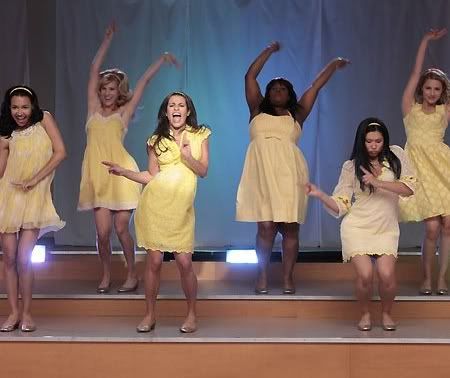 If you're not quite a Gleek yet I'm sure you soon will be… all the schmaltz n cheese, romance and peer pressure we'd expect from an American high school drama with a bout of ball-busting attitude thrown in and yes (cue cheesy gag) that's just the teachers!  The perfect blend.
In the latest episode – Vitamin D – you can see the lovely leading ladies in lemon! I love that each dress is unique, each with it's own style and type of material too.
Lemon is quite a "vintage" colour with many summer seasons throughout the 60s and 70s  seeing it's reemergence in various forms, from dresses and skirts to gloves and wide brimmed hats.  A great colour that compliments almost any skin tone.
Yum!
If you are thinking of starting your own Glee club (and I think you should) check out my own handpicked vintage dresses ready and set to propel you to the limelight… err… in Lemon!
Watch Glee on 4oD.
Share on Facebook
Tags: artie, channel 4, E4, extinct design, glee, glee club channel 4, gleeks, lemon, musical, quinn, vintage, yellow dresses